McCormick Place, one of Downtown Miami's original buildings, is opening its doors as an art lounge event space. The 1924 building, once a United States Customs Warehouse, will now be the central hub for art in Downtown, serving as gallery, event and studio space. The venue features indoor and outdoor space for cocktail receptions, parties, live shows, performances and more, managed by the team of Influence Communications.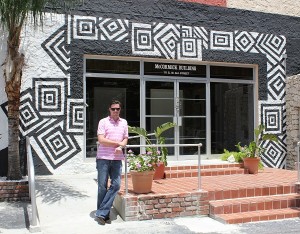 The grand opening event, which takes place during Downtown Development Authority's DWNTWN Art Days in partnership with the Miami City Ballet, will feature art, live music, DJ Pabel Lima, performances by Circ X, Life is Art, food trucks, specialty lighting by Redefined and exotic vehicles such as the Gamson inspired Fisker car. With an expected attendance of 400-500 guests, the September 7th event promises to kick-off Miami's event season with an artistic explosion.
The venue features exterior murals by established South Florida artists Stephen Gamson and Eleazar Delgado as well as a classic mural by students at Miami International University of Art & Design, who collectively contributed over 100 hours, creating  a piece that showcases Miami's attractions and night life.
Known for his bold colors and iconic symbols, Gamson's piece, At the Table with a Flower, prominently hangs on the south façade of the building, visible from major expressways and streets. Eleazar Delgado, whose work pays homage to Miami's history, created a rooftop centerpiece for the structure, highlighting and complimenting McCormick Place and the Miami skyline.

What: Grand opening of McCormick Place / Miami City Ballet Season Opening Party
When: September 7th, 2012, 8:00 p.m. – 12:00 a.m.
Where: McCormick Place
111 SW 3rd Street
Miami, FL 33130
Who: Art & Culture Enthusiasts
About McCormick Place
The original building, constructed in 1924, was first a US Customs Warehouse serving as storage of confiscated goods and look-out post for the nefarious characters coming into Miami via the Biscayne Bay and the Miami River. The property was purchased in 1970 by Edward J McCormick, Sr. and dedicated to his father, Dr. James McCormick. Now, three generations later, Sean McCormick is not only reviving this venue but the Downtown area, creating the epicenter for the cultural crossroads of Miami. McCormick Place is a vibrant production based event space featuring various well known artists